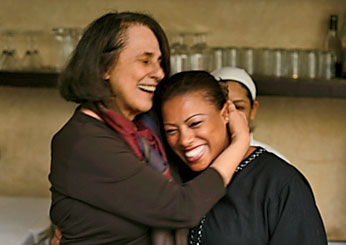 How does legendary author Paula Wolfert coax so many great Mediterranean recipes from so many great cooks? "By hugging, kissing and measuring spoons," she proclaims. She returns to Marrakech to search out the city's best new dishes.
I am in the kitchen of Le Tobsil, one of Marrakech's most ambitious restaurants, attempting my best Paula Wolfert imitation. In the early 1970s, Wolfert wrote Couscous and Other Good Food from Morocco by coaxing recipes from the country's finest cooks, and she's coming back to Marrakech to investigate a possible second edition. But she's been delayed, so on my Facebook wall, she has asked me to get Le Tobsil's recipe for trid, braised chicken baked in a paper-thin pastry.
Chef Fatima Mountassamin pulls down a jug filled with a ground spice I don't recognize. Once she untwists the lid, the whole room smells of cumin. Wolfert had told me Morocco produces some of the world's best spices, but the potent aroma is still a shock. "Cumin?" I confirm in French. Mountassamin nods, then shakes about three tablespoons into her palm. "Three tablespoons ground cumin," I write. I feel like a genius. I feel like I'm standing in for God. But once I see Wolfert in action, I realize I've merely taken dictation for her.
Over the last 35 years, Wolfert has written eight seminal cookbooks, seven still in print. Most of her books explore a region, such as The Cooking of Southwest France, which offers her authentic, three-day recipe for cassoulet; her most recent work, 2009's Mediterranean Clay Pot Cooking, focuses on a method. What sets all these books apart is their unrepentant accuracy. With minimal apology for complex techniques and obscure ingredients, Wolfert has challenged Americans to be better cooks. And it's worked.
Maybe Mario Batali puts it best. The star chef first met Wolfert while cooking at his first restaurant, New York City's Pó, in 1994. "Paula is perhaps the single most influential cook and author among the professional chefs of my generation," he wrote me recently. "Her relentless search for authenticity has led the chefs I love to accept no compromises, and to create real food for an American market that, up until 25 years ago, wanted none of that. She's a lot of fun to have a drink with, too."
These days Wolfert, 72, lives quietly in Sonoma, California, with her husband, Bill Bayer. She indulges her wanderlust mainly online (she's a follower of Moroccan cooking personality Choumicha on YouTube). When she announced she was going to Morocco for the first time in nearly two decades, I leaped at the chance to join her as she explored the restaurants, street stalls and private homes of Marrakech on the hunt for new dishes.
We begin our search at Al Fassia restaurant, where an all-female staff led by chef Halima Chab prepares classic dishes. Wolfert, a compact woman with an impeccable bob of chestnut hair, is dressed in a comfortably tailored blazer and slacks from Chico's (she so favors their clothes that she likes to say she could be their spokesmodel). She's clearly capable of a magnetic tenderness and an infectious loopiness that make even strangers want to share their personal stories, and their best recipes, with her.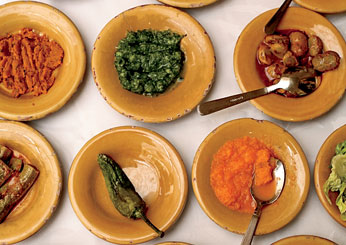 © Quentin Bacon
When our menus arrive, she gets serious. "We'll start with the salads—they're supposed to be the best here." We get an array: sweetened cucumbers with thyme and orange-flower water, glazed pumpkin, fava puree. Wolfert happily shows me how to use the airy khobz bread to scoop up the vegetables.
Then the waitress sets out a bowl of the chile sauce harissa, and Wolfert frowns. "That's Tunisian," she says, disapproving. "Moroccan food is spiced, not spicy. Everyone misses that."
When Wolfert first came to Morocco in 1959 with her then-husband, a journalist, she'd already studied cooking with Dione Lucas and worked for James Beard but had never lived outside her native New York. The couple spurned Marrakech and its emerging hippie scene in favor of Tangier, where they befriended other expats like William S. Burroughs and Paul and Jane Bowles. "I didn't go to Morocco for the food," Wolfert says. "I came for the literary life. I was misinformed." Today, she says, "I would choose Marrakech over Tangier hands down. If I do this book, I may have to come back for another week."
Marrakech is booming today, particularly its restaurants and hotels. In the Medina, or medieval quarter, the famous Hotel La Mamounia just reopened after a long renovation. And in the "new" parts of town, the Guéliz and the Palmeraie, the Four Seasons and the Mandarin Oriental are building their first Marrakech outposts.
At Al Fassia, our couscous arrives, silky grains steamed over vegetable stew. "Very good," Wolfert says, but sits back deflated. "My version's better."
Wolfert became a cookbook author through an unexpected route. By the late 1960s, she'd returned to New York with her two young children. She found work at Columbia Records assembling "party boxes," recipes and foods to accompany LPs from the same country. True to Wolfert form, those were some richly researched boxes. For the Mexican box, she consulted cookbook author Diana Kennedy. For the Moroccan box, she called the Moroccan Consulate General in New York. The Consul General's mother turned out to have been kitchen manager to King Mohammed V.
Columbia Records shut down the program before Wolfert could finish the Moroccan box. But encouraged by Bayer and her new friend Kennedy, Wolfert decided to write a Moroccan cookbook. The Consul General flew her to Rabat, where she spent six weeks with his mother, Khadija Jaidi. What recipes Jaidi didn't know, she sent Wolfert, with a car and a translator, around the country to find.
Wolfert would live in Tangier with Bayer and her children for the next five years. But she finished her research in two months. "I thought that's how you wrote cookbooks," she laughs.
As if on cue, our roast lamb dish arrives at Al Fassia. "Wow, do you taste that?" she says. "The ginger really sings. The sauce kind of moves across your mouth like a piece of velvet, that's incredible. The lamb is so soft!"
When Wolfert can't observe a cook directly (Method A), she interrogates anyone who might know anything (Method B). She asks our waitress about the lamb. What cut is it? How many kilos? How old was the animal? How high was the flame when it was seared? One would think the barrage might drive the waitress away, but Wolfert addresses her like a mother. Wolfert gets her name (Fatiha), her hometown (Fez) and her background (her parents own a small hotel). Fatiha invites Wolfert to the bar for mint tea and starts singing, and Wolfert begins to ululate. Fatiha wipes away tears of laughter and brings Wolfert back to the table, breathless.
"I wrote my entire cookbook that way," Wolfert says. "All by hugging, kissing and measuring spoons!"
It's a wonderful approach, certainly unlike mine when I interviewed the chef at Le Tobsil. When I later give Wolfert the trid recipe, she asks me, "I wonder if the chef used beldi cumin. It means 'from the countryside'; the best beldi cumin comes from the Ouarzazate, over the Atlas Mountains, where they filmed Lawrence of Arabia." My own interactions with the chef were so formal and shy that the subject never came up.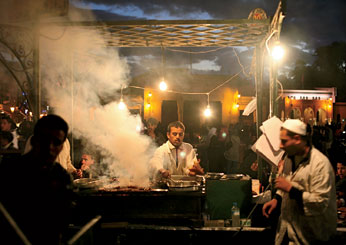 © Quentin Bacon
That afternoon, we explore the souks, the maze of shops in the Medina. As Wolfert has shown, kindness helps get us around. The Medina can be overwhelming: Vendors don't take no for an answer. I try to escape as one seller approaches. But Wolfert tucks her arm in mine and slows down. "La, barak Allaho fik!" she sings out. The man breaks into a grin and bows.
"It works!" Wolfert says. "La, barak Allaho fik means 'God will grant you every wish if you leave me alone.' It's only used in Morocco. They can't believe a Westerner knows it."
We wander the food stalls in the djemaa el fna, the Medina's central square. A group of locals is clustered around stall 11, buying grilled goat and lamb. Wolfert asks the lead grill cook how he makes mechoui, or whole roast goat. I recall a passage from her book and blurt out, "Beaucoup de poivre, oui?" ("A lot of pepper, yes?") Wolfert quickly corrects me in French, so he can also understand: "Non, cumin."
"Vous savez notre cuisine!" he says, gratefully ("You know our food").
I'm starting to wonder if there's anyone Wolfert can't charm, but at our next stop, it's clear she's actually pretty choosy: She really only warms to the good cooks. Our guide brings us to the Mellah, the old Jewish quarter, to a wholesaler's shop ordinarily off-limits to tourists. Enormous burlap sacks of dried herbs rustle as we brush against them, giving off their scents: bright lemon verbena, crisp mint and flinty chiba, or wormwood, used in herbal teas. The wizened proprietor beckons an assistant to bring a bag of saffron.
To my amazement, Wolfert proceeds to upbraid the owner in Arabic. "I told him what he needed to hear!" she explains. "That he is an old man who should know better than to store saffron in a plastic bag. It should be in a metal tin, out of the light. That saffron has no flavor."
I'm ready to be thrown out, but the man starts laughing. He not only thanks our guide for bringing Wolfert in, he offers her beldi cumin for free.
Wolfert is happier at Marjane. The supermarket chain looks like a sterile grocery store but sells many of Morocco's best ingredients. In the flour aisles, open bags allow customers to judge grain sizes. Wolfert rubs a fine semolina flour and realizes it's identical to one the American company King Arthur Flour now offers. Marrakech cooks use it to make pancakes called beghrirs, served with honey or jam at cafés. "I learned that recipe from Madame Jaidi," Paula says, "But I never published it, because you could never get the flour in the States. I could include it in my new book."
We turn into the pasta aisle. "See, Morocco is a noodle nation! No one knows that," Wolfert says. "Chaariya medfouna, I wrote only a paragraph about it in my book, but it's the next hot dish. The noodles are steamed, you won't believe the texture. It's much more interesting than couscous."
It turns out an American family Wolfert knows has a Moroccan cook whose speciality is chaariya; we arrange a lesson. The following morning, we settle into what looks like a Western kitchen but for the cook, Karima, dressed in a bright blue tunic. I'm skeptical, but Karima takes a big pinch of saffron out of a metal tin. Before toasting the threads in a dry skillet, she gently presses them with a wooden spoon to draw out more flavor. Wolfert pulls out a notebook.
"I have a feeling this is going to be excellent," she whispers.
Karima reaches for some tomatoes, and Wolfert digs into her purse for a serrated tomato peeler, then shows Karima how it works. Evidently, Recipe Acquisition Method A always starts with a gift. ("I bring these by the dozen," Wolfert tells me later. "Cooks see their value immediately.") Karima waits to see if Wolfert has more to demonstrate, but Wolfert smiles and says, in Arabic, "I shall watch you!"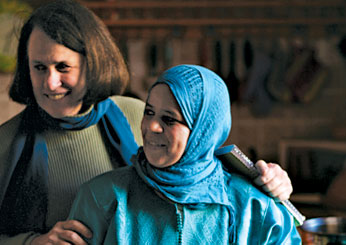 © Quentin Bacon
In the glow of Wolfert's attentions, Karima takes extra care with her preparations. Over the next hour, she silently sets the lamb stew to simmer with onions, cinnamon, ginger and saffron, and steams the slender noodles. Wolfert serves as kitchen assistant, whispering praise. "She reminds me of Madame Jaidi," Wolfert says, tearing up at the memory of her first tutor. She asks where Karima finds her almonds; they're apparently a Moroccan kind that's hard to get in the States. "That never stops me," Wolfert laughs. "I once planted a fig tree so I could try a recipe that called for its sap."
In the dining room, we wash our hands in lemon water before dipping our fingers into the dish. Medfouna means "hidden": The lamb, soft and luscious, is tucked under the noodles, and we swirl them in the fragrant sauce. "Now that smells like Morocco," Wolfert says.
That night we have reservations at Dar Yacout, owned by Mohamed Zkhiri, one of Wolfert's oldest Moroccan friends. Zkhiri is a bon vivant who tells larger-than-life stories about nearly crashing in the airplane of a member of the royal family on a return trip from the horse races. He's owned his restaurant for 22 years but recently began an overhaul of its kitchens. Later, during our seven-course meal, Wolfert will ask dozens of questions about his dishes, like the salad of roasted eggplant spiked with cumin and paprika.
But for now, it's still cocktail hour. We climb a spiral staircase to the roof to watch the sunset. The street cacophony is reduced to a hum, and we can smell charcoal fires from the stalls in the Djemaa. "Rooftops really make you love Marrakech," Wolfert says. "I want to do this book. But I may have to come back here for at least a year."
Published May 2010